Get Loud. Get Better!
The Music Box - Love Field
(I-35 and Mockingbird)
Check here for availability at our Kessler Park location
No commitment necessary (month to month), but we do offer discounts for those interested in the long haul! Just note which option you want in the "Pricing Plan" field during the online rental process!
6-months = 10% off monthly rate
12-months = 15% off monthly rate
For IMMEDIATE move-in, choose 'Rent Now'
To move-in at a later date, choose 'Reserve Now'
If no room is currently available, add yourself to the Waitlist to get notified of an opening prior to it being listed publically.
*Any additional discounts, credits and bonuses are reflected in your account after registering
Individual
Small room to fit a drum kit or solo artist
Jumbo
An extra large room can hold your 5-piece band, backup vocalists AND your dance crew!
Large
Large room to fit a 5-piece rock band
Medium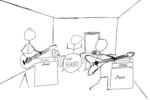 Medium sized practice room for a 3-piece band
Small
Small room to fit a two-piece ensemble